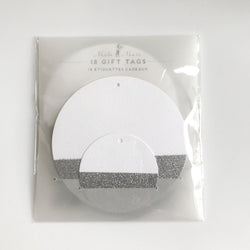 silver disc glitter tags (18)
These simple but elegant gift tags are disc shaped and come dipped in silver glitter for a luxury sparkle effect. Perfect for Christmas.
By Meri Meri.
Pack contains 18 gift tags in large and small sizes.
Tag size: Large; 4 x 4 inches. Small; 2 x 2 inches.
Pack size: 5 x 6 inches.