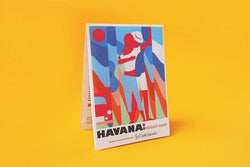 'havana: right now' mini travel guide
Until 1959 and Fidel Castro's ascent to power, Cuba was America's tropical playground: a place of restaurants, casinos, nightclubs. Thos guide explores much of what remains from the freewheeling 1950s, while keeping an eye on new enterprises that have opened as the government stance on private business has softened.
The 32 selections encompass legendary bars and clubs – such as Sloppy Joe's, La Bodeguita – historic buildings and neighbourhoods, along with many of the best new restaurants. Consider it your guide to Havana: Right Now!
* Designed by Mike Lemanksi
* A3 (297x420mm) folded to A6 (105x148mm)
* Litho-printed in England on 100% recycled paper