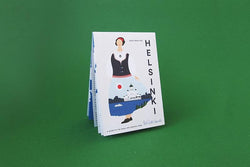 helsinki mini travel guide
What's not to love about Helsinki? Cosy in winter, with its warming saunas and restaurants for long, relaxed meals, and glorious in summer, when nearby islands in the Baltic offer easy escape.
This guide will lead you to all of the above and more, with 37 carefully selected suggestions that are sure to make anyone fall for Helsinki.
* Designed by Martín Azambuja
* A3 (297x420mm) folded to A6 (105x148mm)
* Litho-printed in England on 100% recycled paper