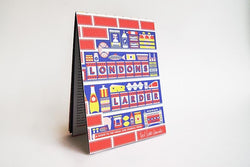 'london's larder' mini travel guide
Across this great city, sweets, treats, meats, cheese and spices are packaged and sold to consumers ever more demanding, more sophisticated and more diverse. This guide offers a selection of the best and most interesting food and drink shops in London.
There has never been better food and drink available in London, here's where to find it.
* Written by Frankie Unsworth, designed by Cajsa Holgersson
* A2 (420x594mm) folded to A6 (105x148mm)
* Litho-printed in England on recycled paper