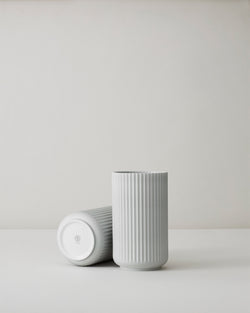 The beautiful, classic Lyngby vase in light grey. 15cms high.

The Lyngby vase has become one of the most iconic designs from Lyngby Porcelain. Over the past 20 years flea markets have been swiped clean of the original examples and the new productions have been extremely popular.

When it was originally designed the Lyngby vase was in stark contrast to the classical porcelain traditions. From the beginning of the 1800s and up until the 1920s the traditions required lots of painting, ornaments, glazing technique and details – focusing more on the decoration of the porcelain rather than the porcelain shape it self. The Lyngby vase challenged this assumption – heavily influenced by the functional Bauhaus movement in Germany. The shape itself is enough. No extra ornaments or brushes needed.