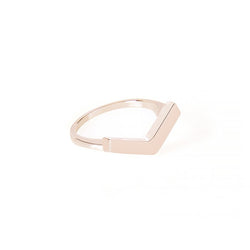 Valhalla is a smooth and sleek ring with a V shaped top. Named after Viking origins, it is tribal and minimal in equal measure.
The ring is elegantly lengthening on your finger with a directional arrow shaped top.
Plated with rose gold, it keeps its lustre well with careful wear. This ring is available in two sizes.
Size M 1/2 is a medium size and size P is a bit larger.